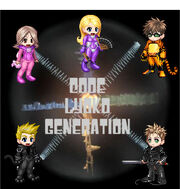 This page contains links to my 6 book story.
Book 1: The Rise of ANAX (PDF Link here.)
Book 2: The Monster War (PDF Link here.)
Book 3: Discoveries (PDF Link here.)
Book 4: Sauver Le Monde (PDF Link here.)
Subseries, "XANA's War":
Book 5: United We Stand (PDF Link here)
Book 6: Divided We Fall (PDF Link here)
All written by TechnoSam
I will be adding the individual chapters on this Wiki, with a page containing links for the chapters of each book.
This series is a work in progress. I am almost done with Book 2, but the PDF will not be posted until it's finished.
Please check out the Story's official Wiki for a list of characters and what they look like. The characters are not posted yet, but they will be soon. You can look at the last few pages of the PDF for now.
I should be able to get around to adding the chapters soon. Thanks!